So, it appears, I was tagged by my cousin Terry Price to fulfill the IceWaterChallenge on Facebook.
I guess what started as "neknominating" someone, has slowly turned into a variety of different interpretations.
My challenge was to either donate USD  100.- to a charity of my choice or to pour ice cold water over my head and have two drinks.
Since I am supporting a primary school in Haiti, I chose to donate the USD 100.-, but also complete the challenge for fun

I got to nominate 2 more people and since I highly respect the work of the Clinton Foundation, especially their efforts in Haiti, I chose to nominate former President Bill Clinton and the Clinton Foundation, to match my donation or complete the challenge aswell

Naturally I would be humbled and honored, if I'd get a response…

Anyhow, if you'd like to match my donation and help maintaining and operating a school for 250 street kids in Port-au-Prince, Haiti, please visit our page and use the "Spenden" (donate) button. Thanks!

Habe heute den folgenden Kommentar, resp. die folgende Frage als Kommentar auf meinen letzten Post "Nein, sie spinnen nicht, die Schweizer!" erhalten.
Ich finde die Frage so gut, dass ich mich entschieden habe, sie gleich in einem eigenen Post zu beantworten. Denn wenn auch Sie über die URL www.tonibortoluzzi.ch auf diese Seite gelangt sind, werden Sie sich wohl dasselbe fragen

–
Lieber Peter Steiner
Vielen Dank für Ihren Kommentar!
Nun, es ist so wie ich es geschrieben habe, ich mag die SVP nicht. Mit eben der einen Ausnahme. Die Natalie Rickli macht m.E. wirklich einen guten Job und setzt sich für Sachen ein, die man mit gesundem Menschenverstand nachvollziehen und meist ebenfalls unterstützen kann. Und um ganz transparent zu sein, den Gregor Rutz, den mag ich auf der persönlichen Ebene auch, mit dem hatte ich schliesslich früher mal eine Jungliberale Ortspartei in Kilchberg gegründet.
Nun aber zu Ihrer anderen Frage, wieso wird die Webpräsenz von Nationalrat Toni Bortoluzzi auf meine persönliche Website umgeleitet?
Sehen Sie, ich arbeite im Online Marketing und beschäftige mich intensiv mit dem Thema Suchmaschinen (Google, Bing, Yandex, Baidu). Hie und da experimentiere ich auch etwas herum.
Die Logik der Suchmaschinen basiert (sehr sehr stark vereinfacht) darauf, die Platzierung einer Seite  in den Suchergebnissen davon abhängig zu machen, wie viele anderen (wichtige) Seiten auf diese Seite verlinken. (Falls Sie selbst eine Website betreiben, haben Sie sicherlich schon mal eine Mail von jemandem bekommen, der einen Link von Ihnen wollte).
Zum Aufbau solcher Backlinks gibt es verschiedene Möglichkeiten. Eine ist, eben alle möglichen Seiten anzufragen, ob sie zu einem linken würden. Eine andere, die Empfohlene!,  ist, einfach guten Inhalt zu schreiben und zu hoffen, dass die Leser dann auf diesen Inhalt verlinken. Eine weitere ist es, Internet-Adressen, die bereits gut verlinkt sind, aber von ihren bisherigen Besitzern nicht verlängert werden zu kaufen und auf die eigenen Inhalte zu verlinken, da somit alle Links, die bisher auf die alte Seite zeigten, nun auf die eigene neue Seite zeigen. Diese Variante und insbesondere deren Wirkung sind umstritten und waren etwas, das ich im Rahmen eines Experiements anhand einer prominenten Domain prüfen wollte.
Im Fall der Internet-Adresse www.tonibortoluzzi.ch ist es so, dass ich diese am 14. August 2013 normal über meinen Domain-Registrar gekauft habe, nachdem offenbar Herr Bortoluzzi nicht mehr an der Weiterführung seiner eigenen Website interessiert war und diese Domain nicht verlängert hat. Seither sind ja nun auch fast 10 Monate vergangen und Sie Herr Steiner, sind die erste Person, der das auffällt oder mich deswegen anspricht.
Wenn man sich anschaut, welche Links auf diese Seite zeigen, so findet man mit dem Tool: www.majesticseo.com heraus, dass rund 90 verschiedene Domains rund 2'000 mal auf diese URL verlinken: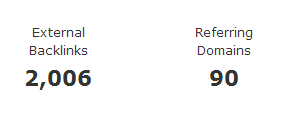 Darunter eben auch recht gute und vertrauenswürdige Domains wie:  www.parlament.ch von der es wohl schwer wäre, einen direkten Link zu bekommen auf meine Seite zu bekommen

Oder ich müsste tatsächlich noch in die Politik

Hätte ich diese Domain jedoch nicht gekauft, würden all diese Links einfach ins Leere laufen, was ja schade wäre. Wenn man also das Argument der Suchmaschinen weglässt, so ist der Aufkauf von verfallenen und nicht mehr genutzten Domains auch eine kostengünstige Variante, sich Intenet-Traffic zu einem bestimmten Thema zu beschaffen. In besagtem Fall eben zum Thema SVP.
Da es sich aber hierbei wie gesagt um meinen persönlichen Blog und um ein Experiment handelte, hatte ich leider zwischen August und Januar zum einen effektiv keine Zeit und auch kein geeignetes Thema um diesen Traffic sinnvoll einzusetzen, zum anderen hielt ich es für möglich, dass Herrn Bortoluzzi ein Versehen bei der Nicht-Begleichung der Rechnung passiert war und er mich warscheinlich alsbald kontaktieren und die Domain zurückerbitten würde, was jedoch bis heute nicht geschah. Als im Februar das von der SVP initierte Thema der Masseneinwanderungsinitiative zur Abstimmung gelangte und entgegen meinem ursprünglichen Wunsch von der Schweizer Stimmbevölkerung auch angenommen wurde, ich zudem im Urlaub war, war der ideale Zeitpunkt, diese URL auch auf den entsprechenden Artikel zu leiten, welcher ja auch die SVP betraff und somit für Besucher der verlinkenden Seiten auch thematisch interessant sein könnte.
Mein damaliger Post hat denn auch über 48'700 Besuche erhalten, jedoch lediglich knapp 300 über Suchmaschinen. Damit ist bewiesen, dass die Umleitung von Domains einem keinen grossen Traffic-Boost bei Suchmaschinen mehr bringt: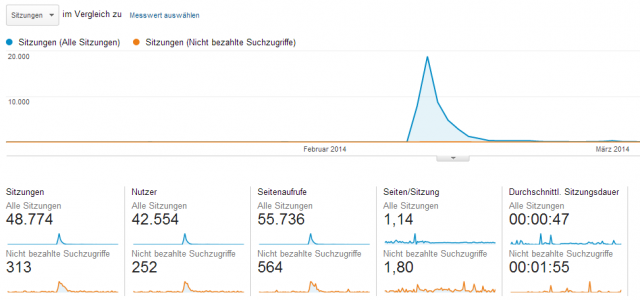 Was hingegen nun eher interessant ist, ist der Umstand und der Beweis, dass die alten Links immer noch funktionieren und nun kostenlos Traffic bringen. Denn wenn ich mir die Zugriffsdaten von dieser Woche anzeige, so zeigt sich das zwar weiterhin über Suchmaschinen wenig, aber über Verweisende Websites in der Tat ein Anstieg an Website-Zugriffen stattgefunden hat:

Es ist also davon auszugehen, dass aufgrund der neuesten Äusserungen von Herrn Bortoluzzi, diverse Internet-Nutzer nach seiner Website gesucht haben, um im ihre Sichtweise zu seinen Bemerkungen mitzuteilen.
Aber vermutlich hat Nationalrat Bortoluzzi auch weiterhin gar nicht bemerkt, dass er vor über 10 Monaten seine Rechnung nicht bezahlt hat und seither keine Website mehr hat. Oder er hat damals tatsächlich bewusst seine Domain gelöscht, um gar nicht mit dem mühsamen Wählervolk kommunizieren zu müssen… Die Wahlen sind ja schliesslich auch vorbei…
So oder so, wenn Sie mich fragen, ist nicht nur Herr Bortoluzzi's Website "fehlgeleitet" sondern aufgrund der jüngsten Äusserungen, scheint auch er selbst nicht mehr zeitgemäss, wie die Handhabung seiner ehemaligen Website beweist.
Bild von Toni Bortoluzzi (Quelle: parlament.ch)
Freundliche Grüsse,
Patrick C. Price
So my local energy supplier has created a few new offers in their energy plans. At a cost of approximately USD 100.-/year additional to the existing cost, you can switch to 100% sustainably produced energy.
So as of September 11, 2013, I have moved my energy consumption to being produced wholly out of sustainable wind, water and solar resources.
I'm not ultra-green, but I think this is a valuable small step into getting our society fully energy sustainable. Who's next?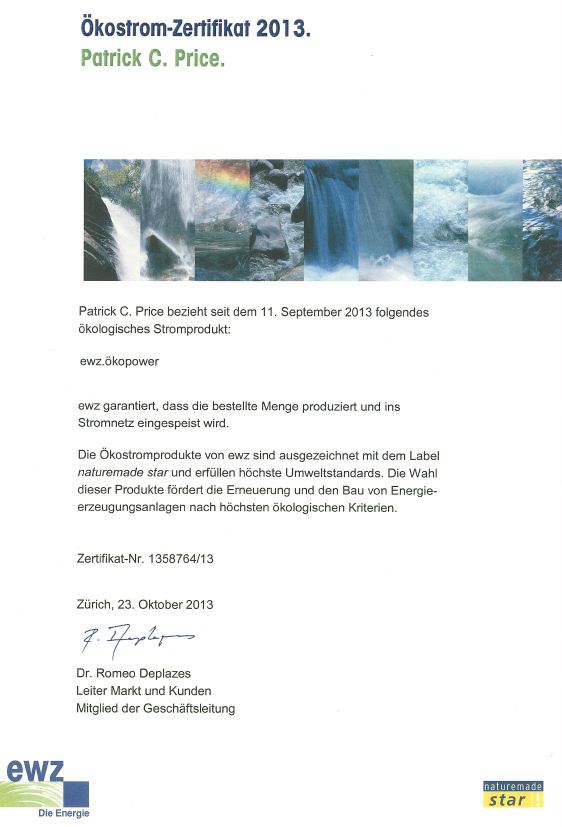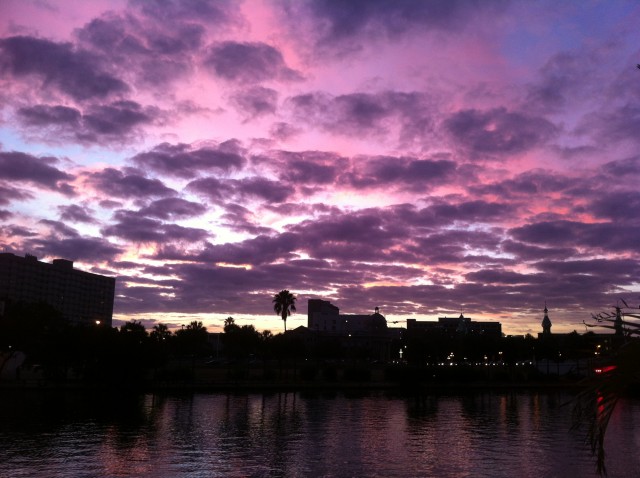 Last week, I had to fly to Tampa for a conference. As the conference hotel was the Sheraton Tampa Riverwalk Hotel, I decided to book a room for me and my college with them directly. Total cost of approx. USD 1200.- for 3 nights (2 rooms).
During the booking process, I noticed that they had a "best price guarantee" on their site, claiming: "If you do find a lower published rate prior to, or within 24 hours of, booking your room, simply submit a Best Rate Guarantee Claim to us and we'll honor the lower rate."
So in good faith, I book both room directly on their website.
Out of curiosity I checked my local price comparison site: www.vergleiche.ch/hotels for a room at that hotel and actually got a rate, that was 20% cheaper for the same room category!
I immediately contacted Sheraton's Best Price Guarantee and demanded my refund.
Their initial answer was that the site I had book with was "specifically for travel agents and Expedia Affiliates who receive special rates, and is therefore ineligible under the terms and conditions of the Best Rate Guarantee Program".
So long story short, as the site I had booked with was "ineligible" under their terms, I did not get my refund, but rather have learned, that their "best price guarantee" programm is just full of crap. If you take the time and check prices for the same rooms, you will easily find a better rate online than with their own booking engine. It might not be eligible for a refund, but you won't need one either, as you'll actually have saved that money instead of getting screwed by them.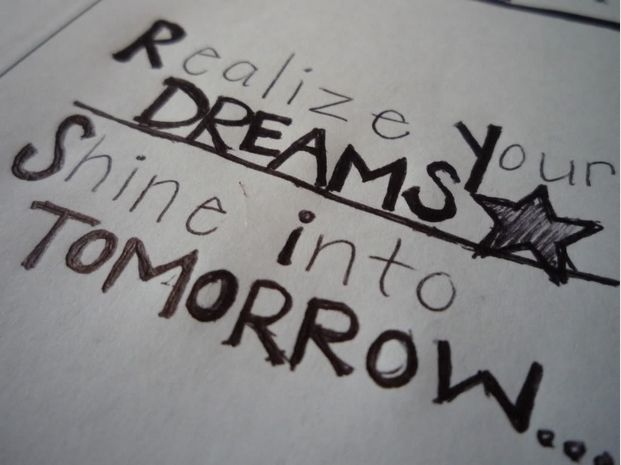 Foto-Source: Photobucket
Ever dreamt of realizing your own project? Well now might be the moment! My friend, Ron Orp is organizing 100-days.net! A project, that helps your raise money for your own project, but only if you are successfull!

Really cool!
My dear little friend. For nearly ten days now, we've been enjoying eachothers company. Although I must admit, the pleasure was more yours, than mine.
I can only imagine, how your days have must been. Waking up with a terrible hangover from the booze we both consumed. Yet eagerly awaiting my return in the evening. Drowling of excitement, when you heard me entering the door. Looking forward to a night long of lustfull sucking, biting and playing seek and hide.
Well my little friend, i am sorry this all came to such a sudden and certainly unexpected stop for you. But enough is enough, you have by far overdrawn my limit of tolerance. Being in India, I hope you are reborn with a better future. Farewell.
So it's been two years to the day, since the new american government has been sworn in. Today, I got an e-mail from Vice President Joe Biden (ok, it wasn't a personal one) linking to the following report, about what the current administration has achieved during it's first two years in office.
Now personally, I am a republican at heart. But the way politics are currently run in the US, I must say, I stand steadily shoulder to shoulder with the direction Barack Obama's administration is going.
Although I believe strongly, that government should be kept small and that the private sector should be allowed to rules it self, I do also strongly believe, that the government representing us as a people, needs to set some ruling guidelines in order to controll corporate greed and keep the power balance between us as citizens and large corporations intact. It is we, wo are the country. Let us not be reduced to pure consumers.
Congratulations on your achievements Barack and Joe. Keep sailing on!
Pretty cool concert by the Bosshoss yesterday. A german country band from Berlin.